evmasteradmin
Charles Murray, Design News

Tesla Motors's recent five-star sweep in the National Highway Traffic Safety Administration (NHTSA) safety ratings shed light on an important aspect of electric cars: They're inherently safer than vehicles powered by internal combustion engines.
Tesla's Model S served as a prime example of those safety advantages, recording the highest (five-star) ratings in frontal, side, rollover, and overall crash categories. The Model S joined the 2013 and 2014 models of the Ford Focus EV, which also captured five-star NHTSA safety ratings across the board.
.Experts said that the performance by both vehicles was not surprising. "There are some very inherent safety dimensions to the design of an electric vehicle," David Cole, chairman emeritus of The Center for Automotive Research, told Design News. "The design may have had more to do with energy storage and powertrain issues, but the safety advantage is a gift that comes along with it, and it's very real."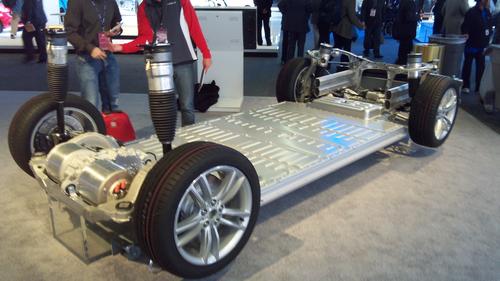 Tesla Model S's lithium-ion batteries are placed low in the vehicle, dropping its center of gravity.
(Source: Design News)
Cole noted that electric cars have three primary safety advantages over their gasoline-powered counterparts. The first is that the batteries are located low in the vehicle, dropping the center of gravity and reducing the possibility of rollover. The second is the elimination of the internal combustion engine, which typically transmits crash energy rearward.
"An engine block is just too rigid," Cole told us. "So the shock wave is pretty much transferred to the area directly behind the engine, with minimal energy absorption." In contrast, he said, electric car batteries deform and absorb energy during a crash.
The EV's other key safety advantage is the elimination of gasoline, Cole said. "You don't have a highly volatile liquid onboard, which can quickly get away from you during a crash and become a real problem."
In a press release, Tesla claimed that its Model S was approximately 50 percent better than other top vehicles in rollover tests. "During testing at an independent facility, the Model S refused to turn over via the normal methods and special means were needed to induce the car to roll," the release said.
A separate claim by Tesla that "the Model S achieved a new combined record score of 5.4 stars" has since been refuted by NHTSA. A statement on the government agency's website said "NHTSA does not rate vehicles beyond five stars and does not rank or order vehicles within the star rating categories."
Tesla's high-profile effort to publish its safety news may serve as an important step for the electric car market, however. Companies that build gasoline-burning cars have been less inclined to publish such news, Cole said. "With the exception of Tesla, manufacturers are not going to talk about this," he explained. "Most EV makers sell a lot more internal combustion engine cars than electric cars, so it's not something they want to publicize."
To date, electric cars have done well in NHTSA ratings, although several have yet to be rated. The Nissan Leaf and Mitsubishi iMiEV have received mostly four-star ratings, while the Fit EV, Spark EV, Fiat 500e EV, and RAV4 EV are awaiting evaluation. Chevy's Volt, which incorporates a 16-kWh lithium-ion battery along with an internal combustion engine, received mostly fives in its NHTSA evaluation. Thus far, Tesla and Ford are the only automakers to receive across-the-board five-star ratings on their EVs.
"They've definitely done a good job with the design of those cars," Cole said. "There's no question about that."