Archive May 2017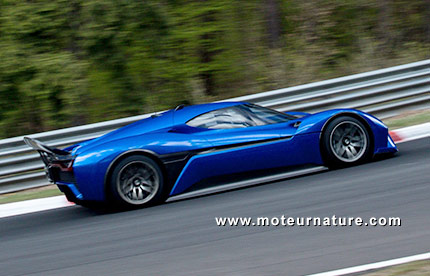 An all-electric hypercar sets a new lap record at the notoriously dangerous Nürburgring Nordschleife.
Setting a lap time of just 6 minutes and 45.9 seconds, the NIO EP9 becomes the fastest EV to take on the former Formula One circuit in Germany dubbed "The Green Hell."
To put the performance in context, by setting the all-time lap record for a non-road-legal car for a full lap with the circuit closed to the public, the NIO EP9 is quicker than Nikki Lauda's Ferrari 312T's time of 6 minutes, 58.6 seconds which gained him pole position for the 1975 German Grand Prix. The EP9's 1 MegaWatt of power is equivalent to 1,342 hp and the vehicle has a top speed of 194 mph (313 km/h) The EP9 accelerates to 124 mph (200 km/h) in 7.1 seconds.
Gerry Hughes, head of performance program and FE team principal at NIO, says: "In October 2016, we aimed to set a new lap record for an electric vehicle with our NIO EP9. In the inclement weather that the Nürburgring Nordschleife is known for, the EP9 completed two laps of the 20.8 km (12.9m) 'Green Hell', one of which was in 7 minutes, 5.12 seconds, beating the previous EV lap record, making it the fastest electric car in the world.
"The EP9's new lap record is 19.22 seconds faster than its previous lap time. This is a fabulous achievement for NIO and I am very proud of the team that has worked tirelessly to achieve this accolade," Hughes says.
Last month, NIO announced it plans to produce a second batch of 10 EP9s, each made to order. The NIO EP9 is priced at $1.48 million.
In March, NIO announced it will have autonomous EVs in the U.S. market in 2020.
Last month, NIO unveiled the NIO ES8, a full size 7-seater all-electric SUV it will launch later this year in China.